Digital Temperature & Analog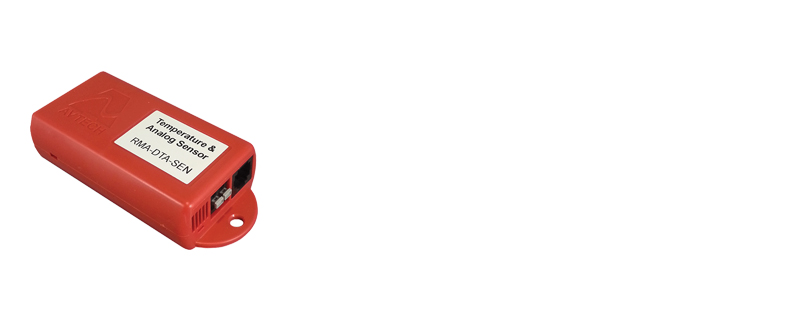 Overview
Features & Specifications
Package Includes
Pricing
Monitor temperature and analog voltage with AVTECH's Digital Temperature & Analog Sensor.
Each AVTECH Digital & Analog Temp Sensor provides real-time temperature values from -40° to 185° Fahrenheit and/or -40° to 85° Celsius. Accuracy is within +/- 2 C degrees. The analog range is from 0 to 5 VDC. Accuracy is within +/- 0.075 volts.
This is a dynamic sensor that provides temperature and analog values every two seconds and feeds temperature and analog data in real-time data back to the Room Alert ID box for data logging, alerting and automatic corrective action. This is an instant 'Plug & Play' sensor via one of the standard RJ-11 jacks on any compatible Room Alert monitor.
Features & Specifications For Digital Temperature & Analog Sensor
Specifications
| Digital Temperature & Analog Sensor | |
| --- | --- |
| Environment Condition Monitored | Temperature & Analog |
| Real-Time Recognition | Yes, Temperature & Analog |
| Digital Temperature Sensor Range | -40 to 85℃ (-40 to 185℉) |
| Digital Temperature Sensor Accuracy | +/- 2℃ |
| Digital Temperature Sensor Resolution | +/- 0.03125℃ |
| Digital Analog Sensor Range | 0 to 5 VDC |
| Digital Analog Sensor Accuracy | +/- 0.075V |
| Digital Analog Sensor Resolution | +/- 0.01V |
| Power Supply | Monitoring Unit |
| Digital Sensor Cable Type | RJ-11 Cable |
| Digital Sensor Cable Length | 8m |
| Maximum Digital Sensor Cable Length | Approximately 33m |
| Compatible Products | Room Alert 32W, 32E, 24E, 12E, 4E, 3E & 3W |
Package Includes
The AVTECH Digital Temperature Sensor Includes:
- (1) Digital Temperature & Analog Sensor w/25' RJ-11 sensor cable
- Installation Note & Instruction Sheet
Pricing
| Prices & Delivery | |
| --- | --- |
| List Price | €95 |